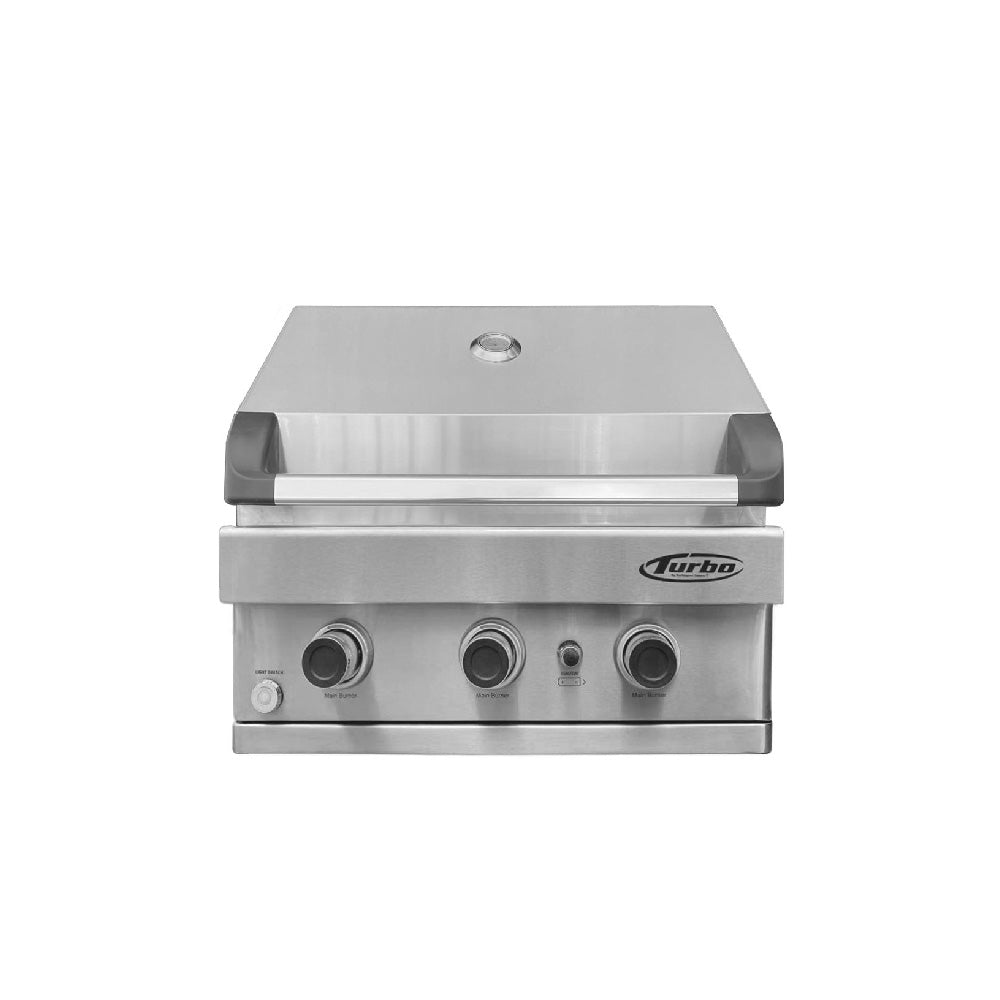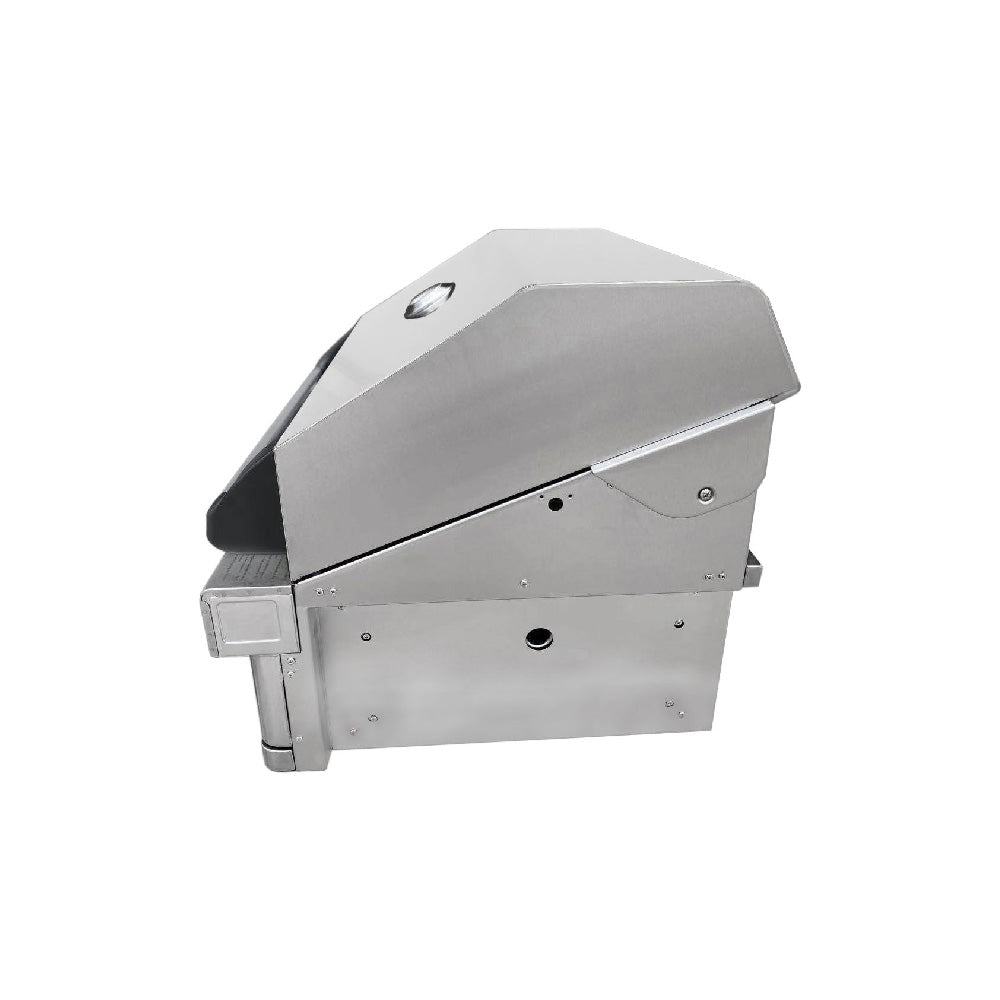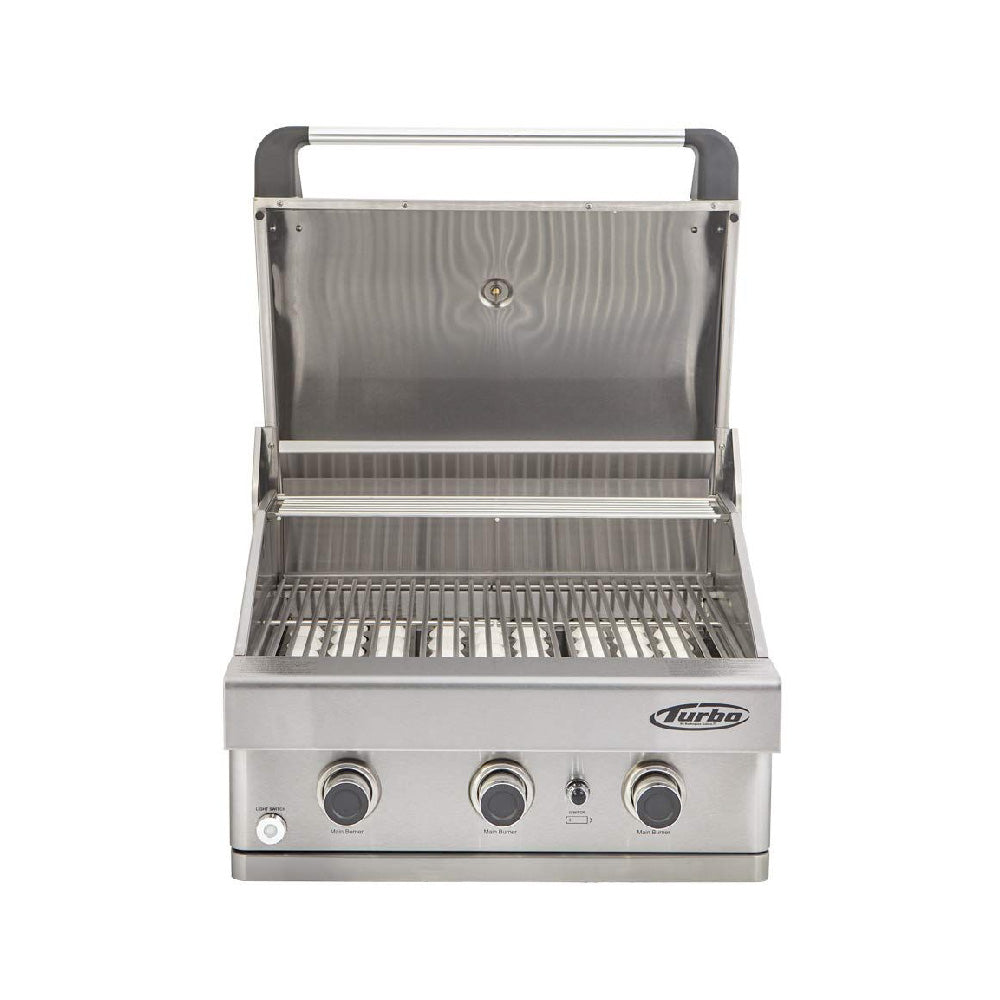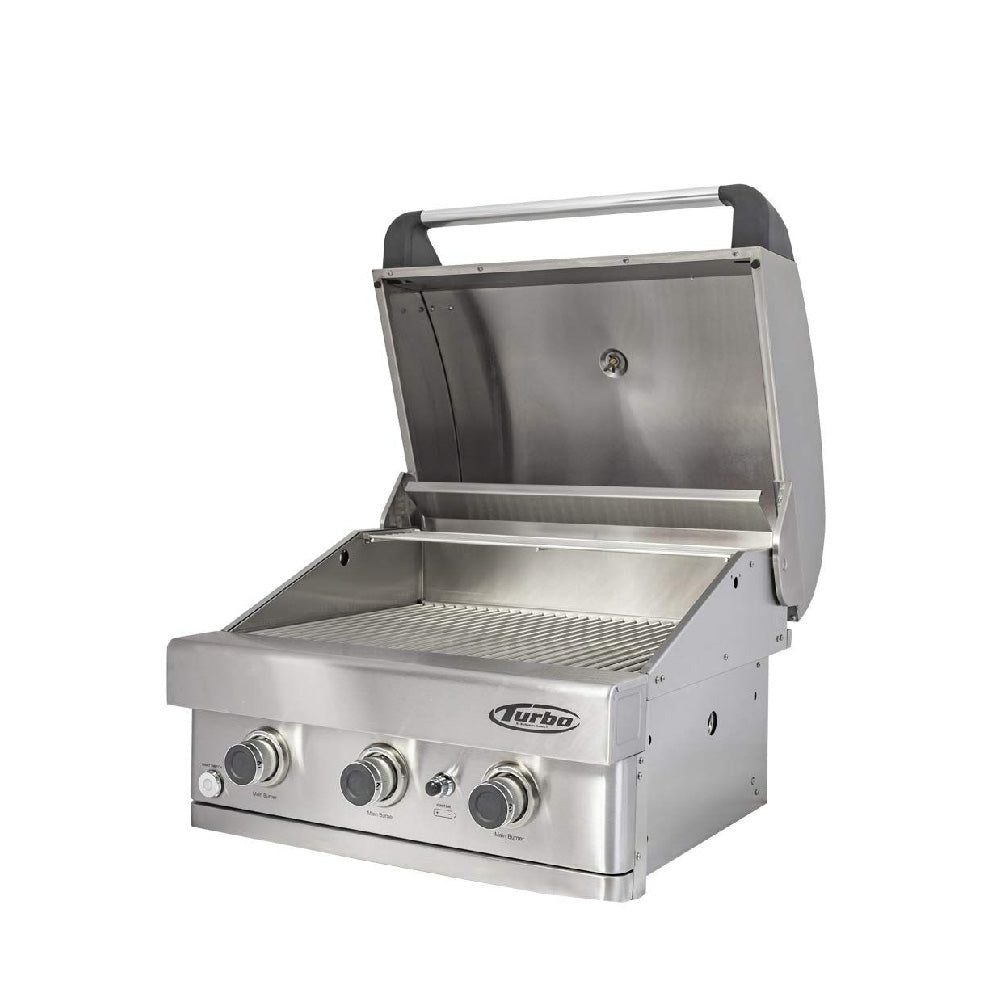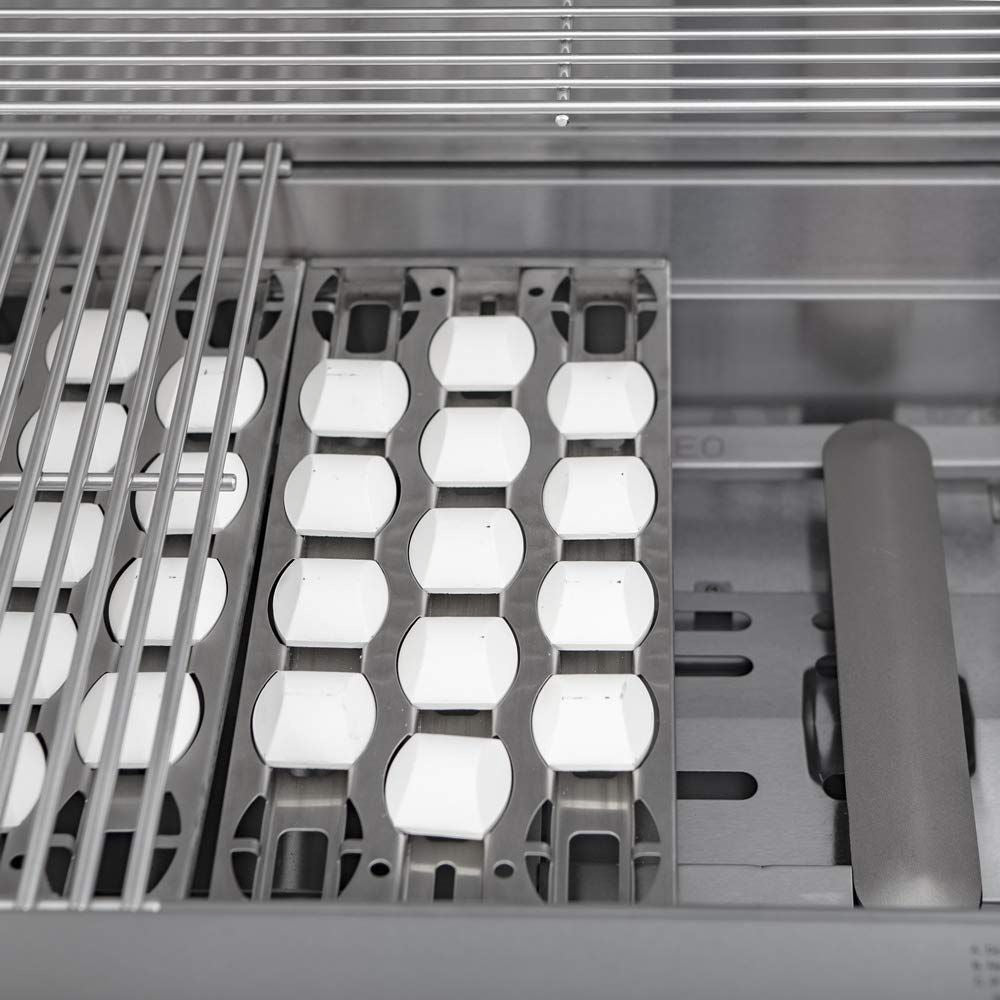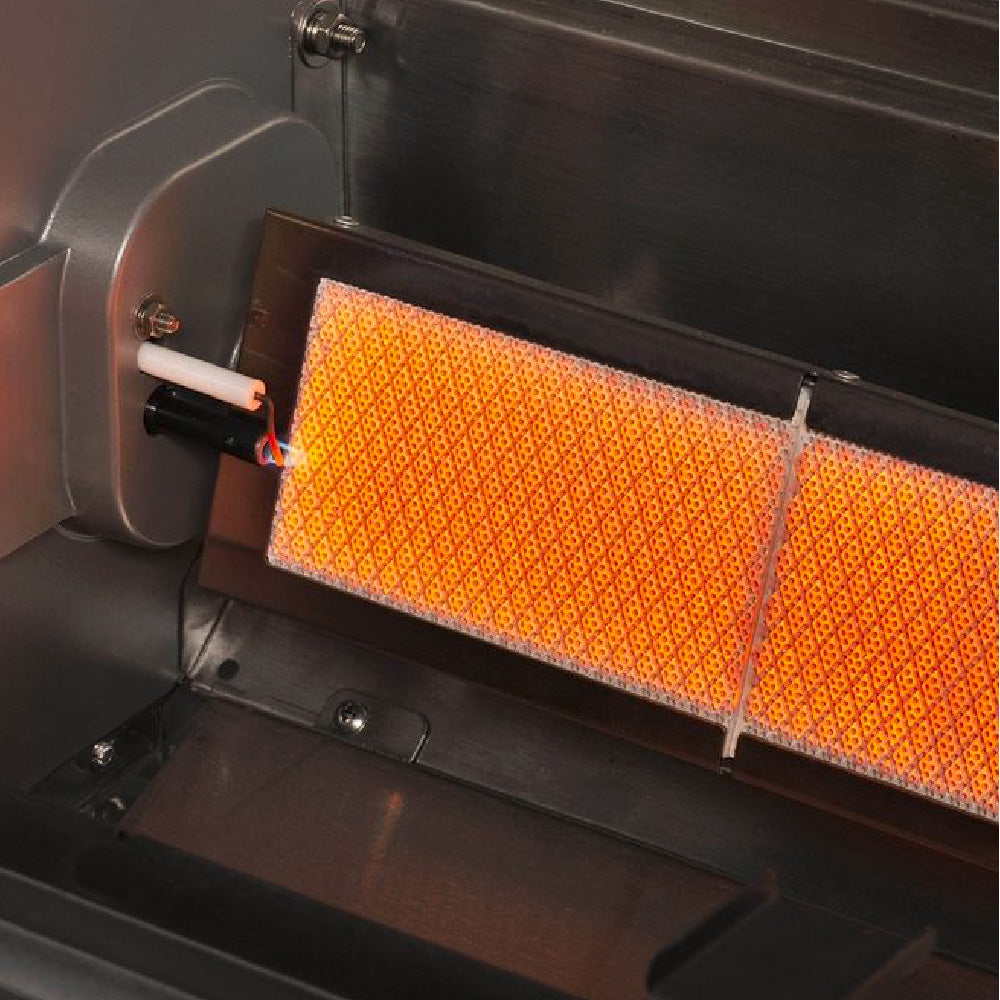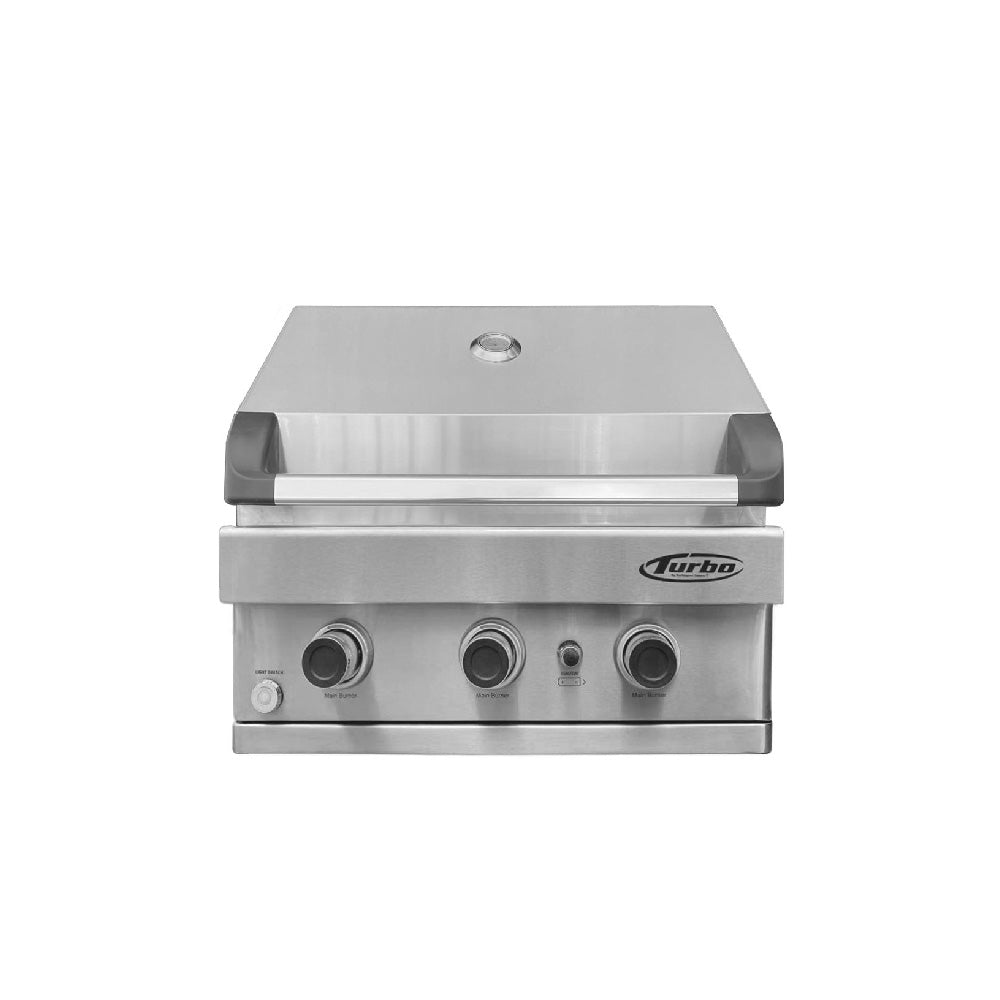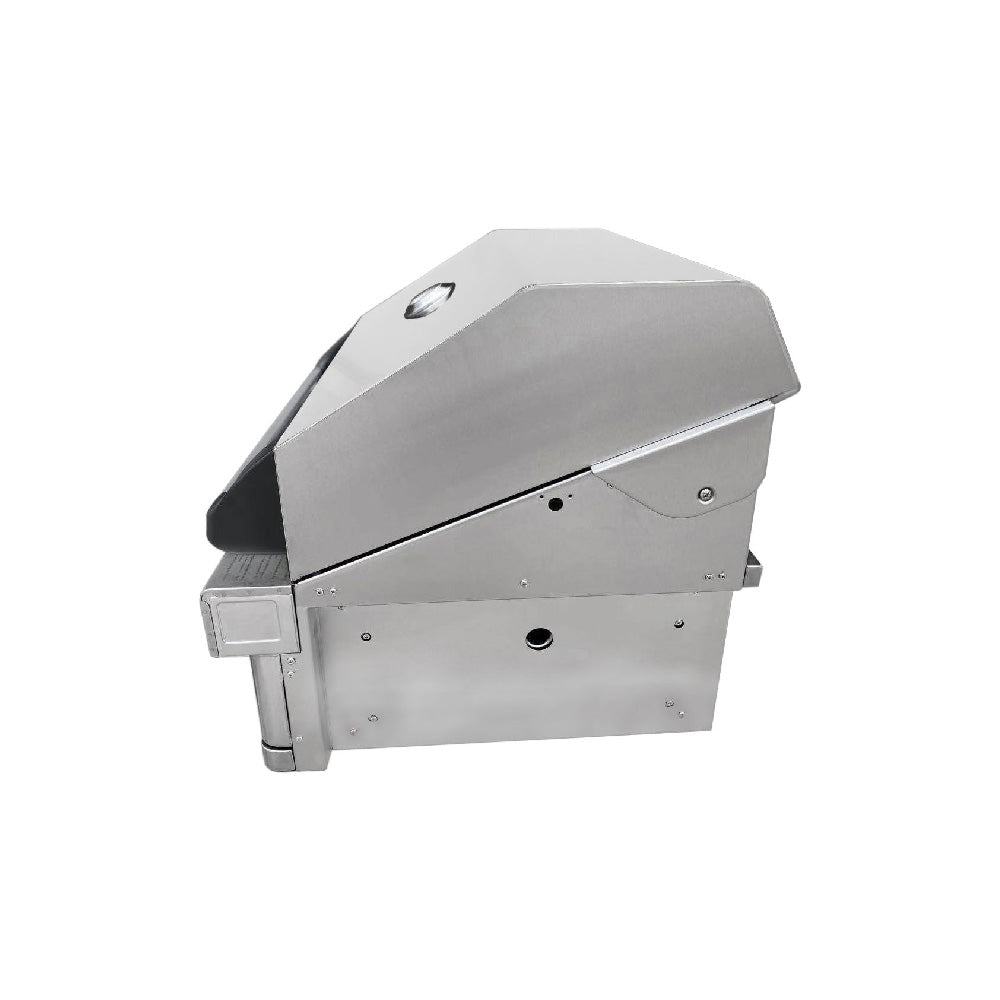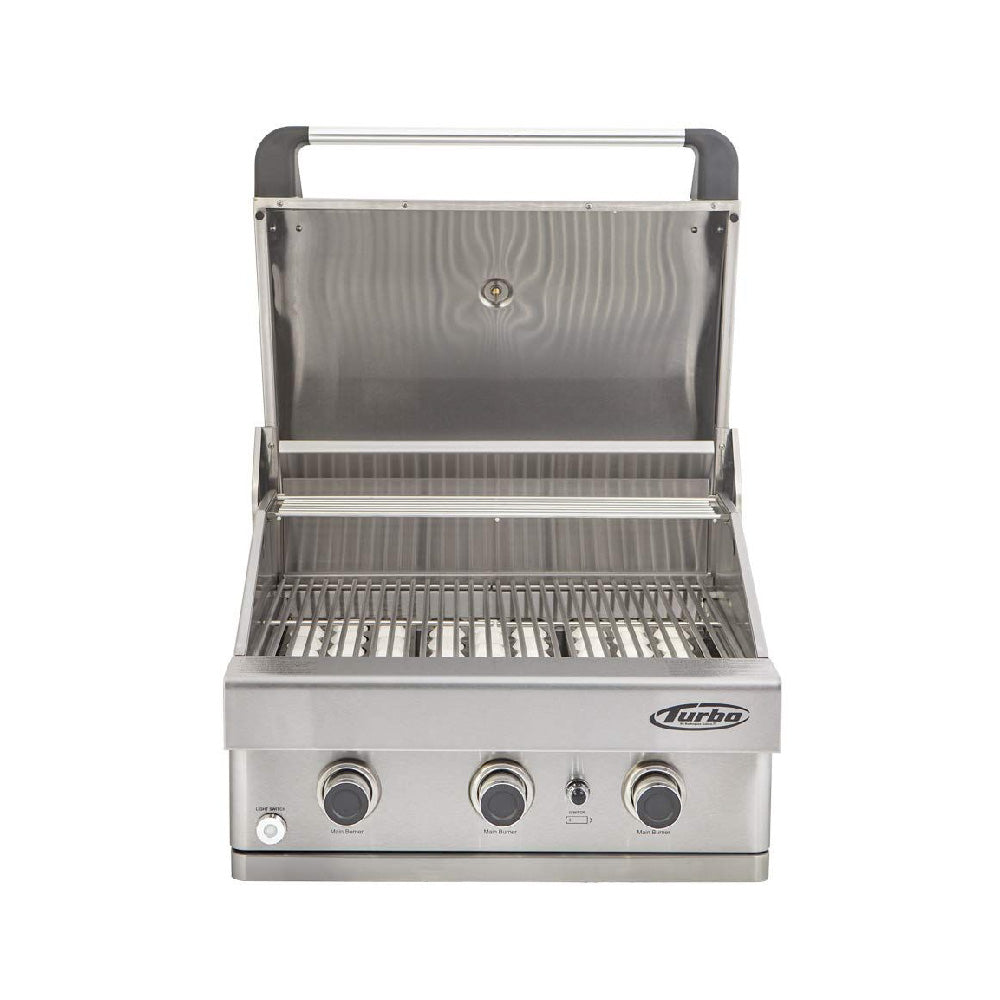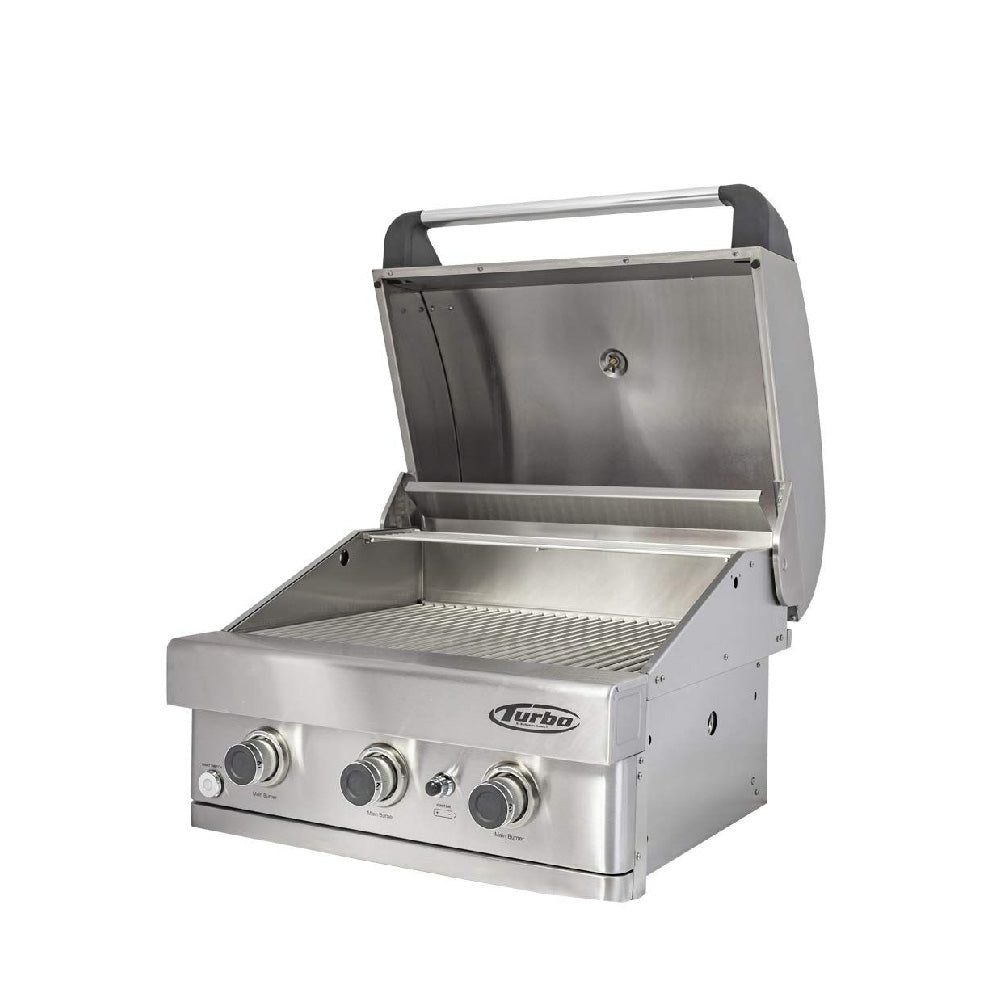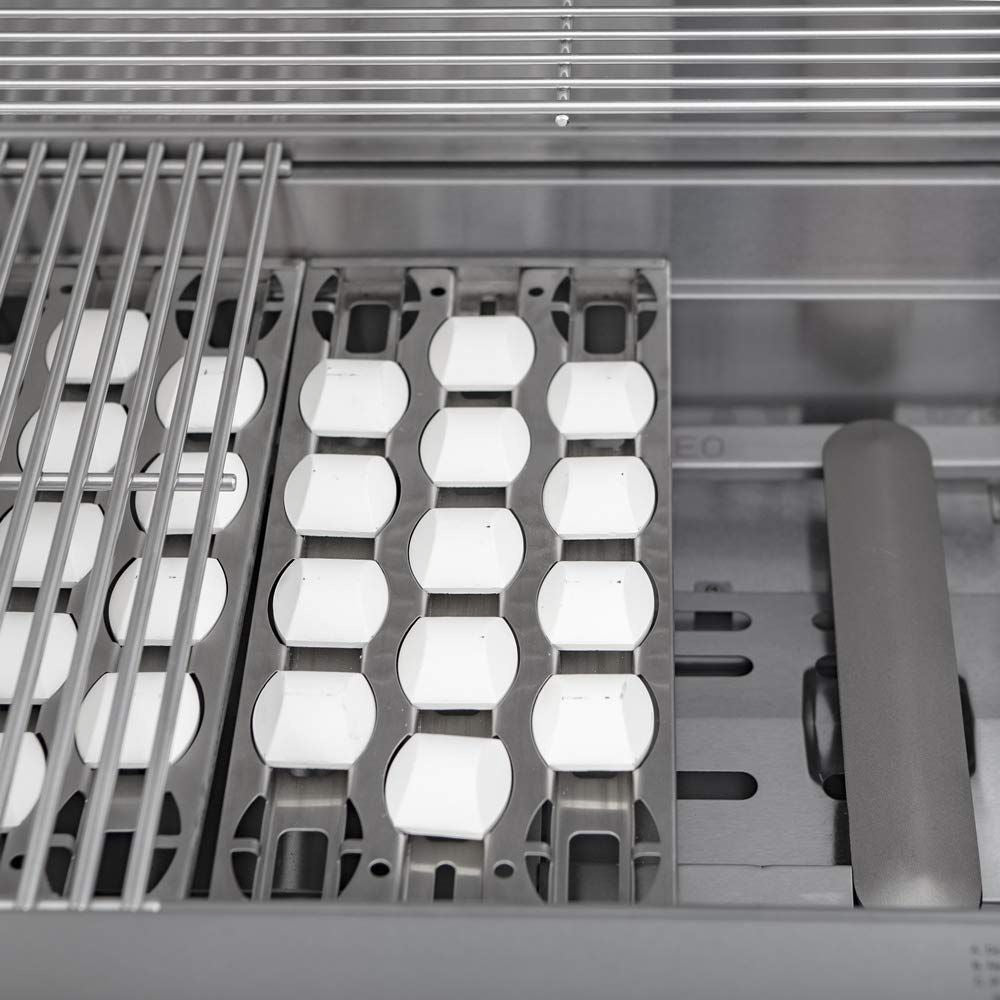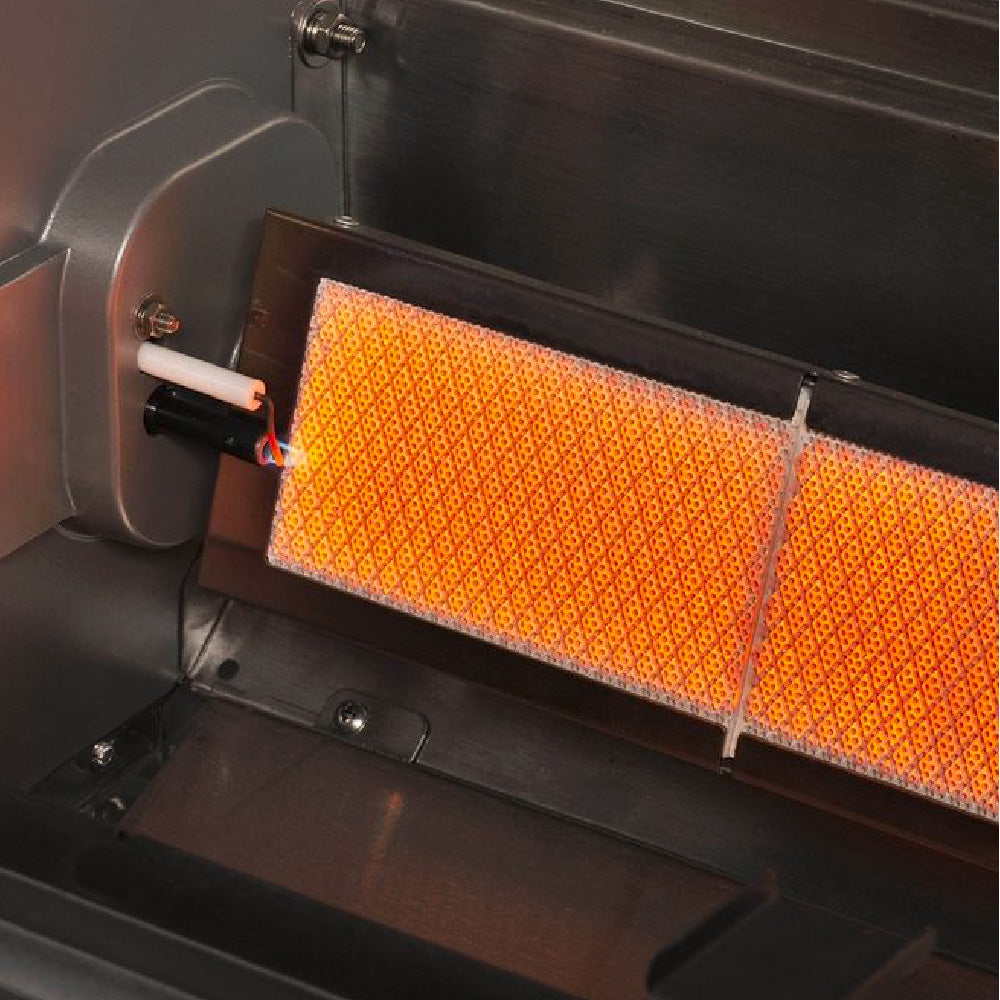 Turbo 26-Inch 3-Burner Built-In BBQ Gas Grill
Powered by Natural Gas or Propane Gas
Turbo Grill is Grand Hall's classic design and has been a best-selling BBQ worldwide for over four decades. Revamped for 2021, the Turbo Grill provides proven performance and durability at an exceptional value.
Radiant Heat Dispersing System

Double-walled Construction

Stainless Steel Cooking Grates

Cast Stainless Steel Burners

Integrated Temperature Gauge

Blue LED Knob Lights

Dual Halogen Interior Lights

Available as a Built-in or Freestanding

Removable Upper Warming Rack

Removable Drip Tray

Electronic Spark Ignition
CONTACT US
Turbo:
RADIANT HEAT DISPERSING SYSTEM
Comprised of beveled, high-grade ceramic flame tamer briquettes in stainless steel holders, our Radiant Heat Dispersing System® provides you with a more even cooking surface than direct heating burners alone. The ceramic briquettes minimize the flames from flaring up and reduce the amount of energy consumed. The briquettes also help eliminate annoying hot and cold spots by radiating heat throughout the whole grill. Additionally, they are easy to clean; just flip them over and burn off any excess residue from your food.
DOUBLE-WALLED CONSTRUCTION
Corrosion Resistance is provided via the Double-Walled 20 Gauge 304 Stainless Steel Construction which is designed to retain heat, prevent discoloration, and weather the elements.
STAINLESS STEEL COOKING GRATES
Built to last, the Stainless Steel Cooking Grates offer you the most durable and easy-to-maintain cooking surface available. The Turbos 8MM cooking grates maximize the transfer of heat to food. You get a total of 608 square inches of cooking space on the 3 Burner Grill and an astonishing 753 square inches of cooking space on the 4 Burner Grill.
CAST STAINLESS STEEL BURNERS
Boasting 12,000 BTUs per burner, the 3-burner model touts a combined total of 36,000 BTUs while the 4-burner model flaunts an impressive total of 48,000 BTUs of pure grilling power. The heavy cast steel burners far outshine the average "tube" burners typically found among other grills.
Available in:
26-INCH
DIMENSIONS:
Width: 26.5"

Depth: 25"

Height: 22.6"

Weight: 127 lbs
CUTOUT DIMENSIONS:
Width: 32.5"

Depth: 19.75"

Height: 9.5"

Weight: 151 lbs
32-INCH
DIMENSIONS:
Width: 30.5"

Depth: 19.75"

Height: 9.5"

Weight: 173 lbs
CUTOUT DIMENSIONS:
Width: 30.5"

Depth: 19.75"

Height: 9.5"

Weight: 173 lbs
Radiant Heat Dispersing System